I recently purchased this Maybelline BB Cream at Target last weekend after all the good things I had heard about it, whether in YouTube videos, blogposts, or articles. I thought I should give it a try because apparently it is good for school, and to get some coverage that doesn't feel heavy like foundation. I have used it a few times and found to like it quite a bit, even though there are a few problem areas.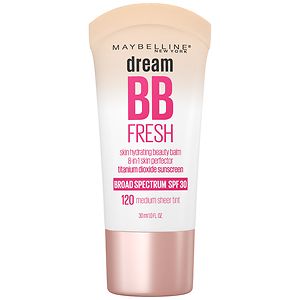 As you can see, even though I have to apologize for the not so good quality of these pictures, the BB cream shows some improvement with minor blemishes, lightens dark circles a little bit, fills in the pores, and evens out the skin tone, and I do like that. I do not get a full coverage, although, and it is a little drying and will come off after a few hours, and since I am at school I really don't have time to go to the bathroom and reapply my makeup.
Before
After
I do have to touch up with a concealer on more major blemishes and dark circles, and since I'm so fair, the lightest shade is a tad bit too dark so I have to blend it out a little bit, which I shouldn't feel I should have to do considering you're just supposed to put it on with your fingers.
I do, however, like the SPF in it, although it is drying and the finished look is a little bit too dewy to go without powder. So I recommend if you have average to drier skin that you use a moisturizer, but if your skin is oily I don't recommend a moisturizer.
Do I think this product is worth the hype? I think so, as long as you're not looking for a full coverage solution. In that case, there are many different foundations out there that you can give a try. But this product gives you a light to medium coverage, because you can build the coverage a little bit.
PROS:
·
Covers minor blemishes and lightens dark circles
·
Reduces the appearance of pores
·
Little bit goes a long way
CONS:
·
Doesn't give a full coverage
·
Dewy finish is a little bit too shiny
Those cons are easy to overcome, gladly, just use a finishing powder, reapply, and use a moisturizer and concealer. I do recommend this product and would give an 8.5/10 rating.
Have a good weekend! Make sure to check out my
last post
if you haven't already! Also, I'm posting my second YouTube video in a little bit so please make sure to follow my Twitter to know when I posted it!
Mckenzie x
*this is not a sponsored post, I just simply wanted to review this product for you all :)